History
More Than 100 Years of Service Above Self
The Rotary Club of Columbus was organized by fourteen men who met at 1:00 p.m. on Monday, November 15, 1915 at the Ralston Hotel. By classification they were a minister, a baker, an undertaker, an attorney, a hotel manager, an office supplies dealer, an osteopath, a railroad manager, a soft drink manufacturer, a coal dealer, a grocer, a merchandise broker, and two insurance brokers. The group received a charter on February 1, 1916 as Club 200 of Rotary International. Charter members in addition to the founders were a telephone manager, a telegraph manager, a theater owner, and a seed dealer.
Between March 15 and the end of 1916 the Club inducted 27 new members, a first-year increase of 150%. One of those inducted on March 15, 1916 was James B. Key, who served as president of the club in 1920. Later presidents included son Jack B. in 1935, grandsons James W. "Billy" in 1965 and Jack B. Jr. in 1976, and great-grandson Jack III in 1997, five presidents in four generations of the Key family.

The vision and enthusiasm of those first members attracted others like them, and The Rotary Club of Columbus was soon composed of the area's business and professional leaders. Our 2007 membership ranges between 335 and 340, and includes descendants of eleven of those members of 1916. An early accomplishment of those early Rotarians was to bring the annual Georgia-Auburn football game to Columbus, where it was played from 1916 through 1958. Since 1949 our club has played a key role in the establishment and growth of Columbus College, now Columbus State University.
Our club's close relationship with Fort Benning began in 1917, when a committee of Columbus Rotarians was instrumental in the establishment of a U.S. Army camp here. The installation was named "Camp Benning" in response to a 1918 Rotary Club resolution recommending the name. Benning's commanding officer has been a member of our club since 1919, since joined by the Chief of Staff, the Chief of Chaplains, the Public Information Officer, the Chief of Protocol, and the Commandant of the Western Hemisphere Institute for Security Cooperation. George C. Marshall was an active member of our club from 1927 to 1932, while he was Assistant Commandant of the Infantry School. We are fortunate to have a number of retired military members, including six general officers.
We take particular pride in our 94% attendance, the best of all clubs of our size in Rotary International, for which there are three primary reasons: fellowship and the pleasure we take in each others company, interesting programs, and Executive Secretary Mary Reed. Our speakers through the years include General George Patton, Coaches Bobby Dodd and Terry Bowden, Dr. Norman Vincent Peale, Dean Rusk, Dale Murphy, Supreme Court Justice Clarence Thomas, General Alexander Haig, and numerous other luminaries. A particular honor for us was the attendance of Rotary founder Paul Harris at a club meeting.
Our club supports the Objects of Rotary through a number of local efforts and projects in Central and South America and Eastern Europe. Our president has represented us at every R.I. Convention since 1916. We have sponsored four new clubs: Fitzgerald in 1937, Warm Springs in 1947, East Columbus in 1965, and Muscogee in 1991. Five of our members have served as District Governor. The club has produced 475 Paul Harris Fellows and 81 Will Watt Fellows, and a number of current members are sustainers in both programs. There are 7 Major Donors and 10 Paul Harris Society Members. We have sponsored a foreign student under Will Watt's Georgia Rotary Student Program for the past 56 years.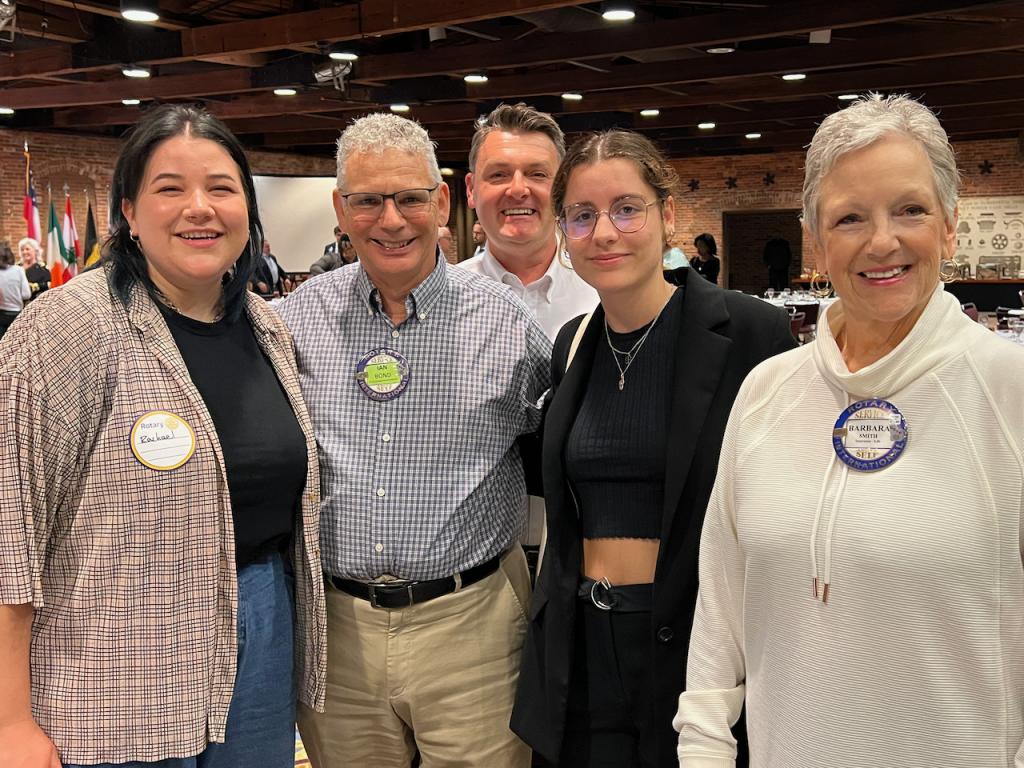 ---
Updated by Ryan Clements
February 7, 2023 8:45 pm